If you are thinking of renovate the bathrooms at home, here are a re few simple ideas and main trends 2015. We recommend that before you get down to work, take a look at the unlimited styling options, think about what you want and choose the best option for you. First of all, take into account the bath dimensions, plan ahead what you want to do: to modify the surface, divide up the space, moving a door, renew plumbing, tiles and taps, changing the bath for a shower, install a glass screen, redesign lighting, improve ventilation, etc.   1. This year the colors are light, neutral and warm. A bathroom decorated in two colors is a strong bet. This is a good idea if your bathroom was already a specific color, you can combine it with another color to give an original touch to the space.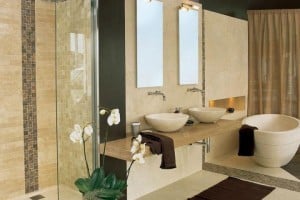 2. Finish: Glossy surfaces enhance the sensation of spaciousness and luminousness. Contrasts takes protagonism, you can combining shiny surfaces with warm colors or wood!!
3. Lighting: Bathrooms needs ventilation and light. Distribute electrical sockets and spotlights properly considering if there are windows. We recommend putting lights nearby the mirror. This trend is very fashionable: lights are incorporated into the furniture, in the shower and the sink faucet.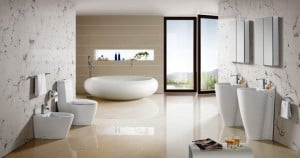 4. Bath or Shower? Depending on your budget and the space you have, we will recommend one option or another. Due to its practicality and functionality, to save water and also to maximize space, the shower is a great choice. But a whirlpool bath is a real luxury.